Best Table Saw Blades – Ultimate Buyers Guide
---
Best Table Saw Blades – Ultimate Buyers Guide
---
What makes the Best Table Saw Blade
It's a common question. and one that can lead to a lot of confusion. But it doesn't need to be like that, With just a little thought about the type of woodwork that you expect you to do, we will explore the options and I'm confident that we can identify the blade or blades that you will need to get the most out of your table saw. If you are short on time, or are buying a table saw blade as gift or quite simply don't want to be bogged down in the detail jump to the Best Table Saw Blades section of this article to see my recommendations. The bullet points will give you the main features of the blades.
For those of you that would like a better understanding of the anatomy of a table saw blade, click here to jump to the buyers guide which will cover the anatomy and various design considerations of the table saw blade giving you the knowledge that you need to identify what works for you.
Best 10 Inch General Purpose Saw Blade
A good general purpose table saw blade could very well be all you are ever going to need for your woodworking. Having one blade that will make top quality cross cuts and rip cuts, will mean that you won't need to keep changing blades, which will save you lots of precious time in the workshop.
Freud D1040X
10 " 40 tooth ATB General Purpose Saw Blade
Great price
Makes clean cuts in a variety of woods
Produces smooth quiet cuts with laser cut kerf
Shock resistant carbide for long lasting precision
Forrest WW II
10 " 40 tooth ATB General Purpose Saw Blade
Top quality blade at affordable price
Feeds easily for both rip and cross cuts
Eliminates bottom splintering on radial crosscuts
Freud P410
10 " Premier 40 tooth Hi-ATB General Purpose Saw Blade
Premium full kerf blade
TiCo high density carbide with triple chip design teeth for smooth cuts
Laser cut anti-vibration vents
Excellent for rip and cross cuts in softwood hardwood, plywood and laminate
I would love to be able to give you a run down on every general purpose 10 inch table saw blade there is, but 1. there is just so many of them this article would never be finished and 2. Seeing pros and cons for hundreds of blades wouldn't help you get any closer to making a choice. So I have shortlisted the ones that you see above. These are the best of the best in their respective price points. I am pretty confident that if you go with one of these you will not be disappointed.
Freud D1040X
Now I feel slightly bad calling this the "budget" option, because this is an absolutely amazing general purpose table saw blade with an incredibly low price. I'm always frustrated with  table saw manufacturers bundling cheap saw blades with their table saw when manufacturers like Freud can produce blades of this quality at such a low price. Sticking one of these in the box would not add too much to the cost.
You are getting a 10 inch 40 tooth ATB (Alternate Top Bevel- to understand more about tooth geometry please see the boring bit below) general purpose blade. It has a standard 5/8″ arbor so will fit the vast amount of table saws out there. Click here to visit the Freud website to find out more about this saw blade.
Forrest WWII (WW10407125)
Forrest have a very good reputation for making extremely high quality blades. You only need to look at their website to see the vast array of blades available. Forrest have been making saw blades since 1946 and have a reputation for providing high end products. They have a great deal of choice which can be a little overwhelming which is why I have singled out the Forrest WW II as a very popular General Purpose Blade.
You are getting a 10 inch 40 tooth ATB standard kerf (1/8″) general purpose blade. with a standard 5/8″ arbor. Forrest pay a lot of attention to quality when manufacturing their blades to ensure that are perfectly flat and balanced. This means that they run quiet and vibration, which can wear a table saw over time, is minimized. The blade has a 15 degree ATB tooth configuration with a 20 degree hook angle which gives a very good edge finish on rip and cross cuts in a both soft and hardwoods up to two inches thick.
Forrest are so confident that you will love their blades, they offer a 30 day guarantee. If during that time you are in any way unhappy with your purchase, you can return it for a full refund. Forrest also offer very good value after sales service which includes very reasonable blade sharpening and servicing. check out their website to get an idea of sharpening costs and repairs. It's a lot cheaper than getting a new blade.
FREUD P410
FREUD really gives us so much choice when it comes to table saw blades and this can be both a blessing and a curse when it comes to choosing your perfect saw blade.
The FREUD P410 is another very popular general purpose table saw blade. It has a standard 3/4″ arbor and 40 teeth. it has a standard 1/8″ inch kerf. The P410 has HI ATB teeth (30 degrees) this means the blade gives a slightly cleaner finish in sheet materials such as plywood and melamine etc
Best 10 Inch Combination Table Saw Blade
Similar to the the general purpose table saw blade the combination table saw blade is a one size fits all that allows you to make good quality crosscuts and rip cuts in a wide range of timbers and sheet materials. Combination table saw blades will typically be 50 tooth and the teeth will be in groups of 5. 4 of the teeth are Alternate Top Bevel (ATB) and one tooth will be flat, otherwise known as a raker. See the buyers guide below to understand more about these types of blade.
Freud D1050X
Diablo 10″ 50-tooth ATB Combination Saw Blade
Reasonably priced
thin .98 " Kerf
Creates clean cuts for rip and cross cuts
can be used in both table and miter saws
5/8″ Arbor
Freud LU84R011
10″ x 50 Teeth Combination Table Saw Blade
Premium combination blade
standard .126″ kerf
10 degree positive hook angle
Tico high density carbide teeth
CMT 215.050.10
10 " Industrial Combination Table Saw Blade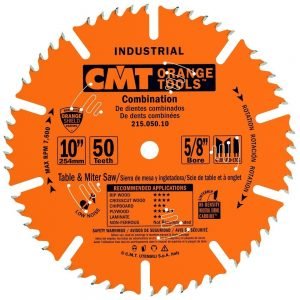 Great for rips and crosscuts
standard .126″ kerf
12 degree hook angle
PTFE Coating keeps blade running cool
A great alternative to the general purpose blade, is the combination blade. It does what it name suggests, which is create very good clean cross cuts and rip cuts in a wide variety of materials. The teeth on a combination table saw blade are grouped in sets of 5 with 4 of the teeth being ATB (Alternate Top Bevel) that will make the clean square cut on each side of the channel and a flat top raker whose purpose is to remove material. between the sets of 5 teeth there is a large gullet that is used to carry sawdust away from the workpiece leaving the blade to do it's job properly.
Freud D1050X
At the cheaper end of the spectrum, we have the Freud D1050X combination table saw blade. This is an amazingly great value blade that does a great job at both cross cuts and rip cuts in hard and softwoods, as well as sheet materials. It is worth noting that this is a thin kerf blade (0.098″), which will make it somewhat lighter and remove less waste, so may be better suited to a lesser powered portable table saw. But check the thickness of your riving knife or splitter to make sure that it isn't thicker than the kerf of the blade (0.098″)
Freud LU84R011
So another Freud blade has made the shortlist, and the LU84R011 is a very capable combination blade at a very reasonable price. It's described as one of their industrial blades, so comes with a full 1/8″ inch kerf. The bigger teeth means that they can withstand more sharpening. Thicker blades tend to vibrate less due to the fact that more metal means more stability and rigidity. As with most combination blades, the teeth are in sets of 5 with One FTG (Flat Top Grind) that removes the bulk of the waste and 4 ATB teeth to clean up the cut. The LU84R011 comes with Freud's "Perma Shield" non stick coating, which reduces blade drag and protects the blade from corrosion and pitch build up.
CMT 215.050.10
Another great choice for a combination blade is the CMT 215.050.10. It's a standard size 10″ 50 teeth combination blade. It has a standard 0.126″ kerf. It's going to give you very good rip and crosscuts in both hardwoods and softwoods as well as easily being able to deal with sheet materials. As with all 10″ combination blades there are 10 sets of 5 teeth. one FTG  that makes the rough cut and 4 ATB that clean it up. Being a full thickness blade, It will be heavier than one of the thin kerf options, but there is lesser chance of vibration and their will be more carbide on the teeth so will stand up to more resharpening's.  The CMT 215.050.10 also comes with a non stick coating. which means that the blade will run cooler, is protected against corrosion and reduces the build up of pitch on the blade.
Best Table Saw Blade for Ripping
Freud D1024X
Diablo 10-Inch 24-Tooth ATB Ripping Saw Blade
Thin Kerf .098″
10″ Diameter 24ATB teeth
15 degree hook angle
TiCo Hi-Desnity Carbide
DEWALT DW7124PT
10-Inch 24 Tooth ATB Ripping Saw Blade
Thin Kerf .098″
10″ Diameter 24 ATB teeth
20 degree hook angle
Tough coat finish
Forrest 10206125
10″ 20T ATB WWII Ripping Table Saw Blade
Standard kerf 0.125″
10″ 20 teeth ATB/Raker
20 degree face hook angle
Cut 3″ thick dense hardwoods
There will sometimes be an occasion where you will need a dedicated table saw blade to do a very specific job. For example, if  you have a project that requires you to make a lot of rip cuts, then there is a very good argument to get a blade to do just that. Unlike general purpose and combination blades that are designed give you good cuts on both rip and crosscuts. It does this at a cost. You need fewer teeth on a blade for a rip cut than you do for a cross cut. So a general purpose or a combination blade will always be a compromise. Using a dedicated rip cut blade that has fewer teeth will allow you to make rip cuts quicker and more efficiently. the larger gaps between teeth means more saw dust gets removed quickly and the positive hook angle is more aggressive, which means that the work piece moves across the blade much quicker. This is turn leads to less friction and wear and tear on the blade. Also a rip cut blade will give you a superior finish over a general purpose or combination blade. Just don't do cross cuts with it.
Freud D1024X
A very well reviewed ripping table saw blade is the Freud D1024X. On a 10″ blade it has 24 teeth in a ATB configuration. Also being thin kerf at 0.098″ means that it makes very quick rip cuts in soft and hard woods as well as sheet materials such as plywood and OSB. Being a thin kerf blade, you will need to ensure that the riving knife on your table saw is thinner than 0.098″ otherwise it won't work with this blade. The laser cut stabilizer vents reduce noise and vibration and help reduce friction on the blade. The ATB teeth do not have a flat top, so you need to be aware of this if you want to make non through cuts, as the bottom of the channel won't be flat.
DEWALT DW7124PT
The DeWALT DW7124PT is a very reasonably priced 10 inch table saw blade for ripping hardwoods, softwoods and sheet materials. It has a slightly steeper hook angle of 20 degrees, which means a quicker more aggressive cut. The large space between teeth, means more material can be removed as the work piece is moved across the blade. The ATB oriented teeth will give an excellent finish to the cut. This is also a thin kerf blade so you will need to check the thickness of your riving knife is less than 0.098″
Forrest  WWII 10206125
Forrest make amazing saw blades, And if you choose this blade for your rip cutting I'm sure you won't be disappointed. the 10206125 is slightly different in that it has an ATBR tooth configuration. Where most rip cut blades have an alternate top bevel (ATB) configuration this blade has raker every third tooth. which will leave a flat top if making non through cuts. Forrest blades are manufactured to very high tolerances. Forrest claim that side wobble is held to .001″ where other brands it's common to have side wobble between .004″-.010″.  This blade should give you perfectly smooth rip cuts straight from the saw without the need for further finishing.
Best Table Saw Blade for Cross Cutting
Irwin 1807370
10-Inch 80-Tooth Hi-ATB Table Saw Blade
10″ Hi ATB tooth configuration
80 teeth 
Thin kerf blade
standard 5/8″ arbor
Freud LU85R010
10″ x 80T Ultimate Cut-Off  Table Saw Blade
10″ 80 tooth ATB saw blade
standard kerf 0.128″
10 degree hook angle
Side ground teeth for glass like finish
Freud D1060X
10-Inch 60 Tooth ATB Fine Finish Saw Blade
10″ 60 tooth ATB blade
standard 5/8″ arbor
Thin kerf 0.098″
15 degree hook angle
If you are going to be doing lots and lots of cross cuts and rarely have the need to switch from one blade to the other or don't mind having to change. It may be a good idea to get a dedicated blade for cross cutting. As cross cutting involves cutting across the grain, these types of cut are much more prone to tear out, so it's important to use a blade that is better designed to slice across the wood fibers. this is where cross cut blades come in. they have more teeth and cut more slowly. The teeth are more likely to have a steeper angle that will act more like a shear, slicing through the fibers rather than chipping through them.
Irwin 1807370
The Irwin 1807370 is an excellent cross cut blade. It's a 10″ blade with a standard 5/8″ arbor. It is a thin kerf, .098″ blade so you will need to ensure that it will work on your saw with your riving knife or splitter. the 80 teeth are perfect for cross cutting thick dense timbers. The Hi ATB angle of 30 degrees act more like a shear slicing through the fibers of the timber reducing the risk of tear out and leaving an excellent finish in the end grain of your timber. As well as using this blade in your table saw, It also  is an excellent choice for your miter saw where nearly all cuts are cross cuts.
Freud LU85R010
Freud have produced yet another awesome table saw blade with the LU85R010. It's a standard size 10″ blade with 5/8″ arbor and a standard 0.128″ kerf. 80 teeth in an ATB format configuration is perfect for incredibly clean cuts across the grain. Freud have gone one step further with this blade by using side grinding of the teeth to polish the edge of the cut. It's an incredibly well balanced blade which incorporates Freud's anti vibration slots as well as their Perma-SHIELD coating that reduces friction and heat buildup. This puts less strain on the saw and reduces the amount of time you need to spend on cleaning pitch off of the blade.
Freud D1060X
The D1060X is a very good value cross cutting saw blade. It has a thin kerf blade 0.098″ which would be better suited to lesser powered table saws. The 60 teeth is a good number for crosscutting reasonably thick softwoods and hardwoods. The HI-ATB orientation of the teeth are great for slicing through the fibers of the end grain reducing the risk of tear out and leaving an excellent finish. As well as using this blade in your table saw, it would also be very good choice for miter and radial arm saws.
Best Table Saw Blade for Sheet Materials
Freud LU80R010
10″ x 80T Ultimate Plywood & Melamine Blade
Hi ATB Grind angle for splinter free cuts
TiCo Hi Density Carbide
Standard .126″ kerf blade
2 degree hook angle
Freud LU97R010
10″ x 80T Double Sided Laminate/Melamine Blade
80 tooth 10″ TCG grind
Standard .126″ kerf
-3 degree hook angle
Perma-Shield Non-Stick coating
Forrest DH10807100
10-Inch 80 Tooth HI-A/T Melamine and Plywood Cutting Saw Blade
10″ 80 tooth Hi-ATB
.1″ kerf
5/8″ standard bore
Double sided melamine and laminates
If you are making lots of cuts in sheet materials such as plywood and MDF, it may be worth investing in dedicated blade for sheet materials. There is a lot of choice when it comes to this sort of blade. What you will ideally be looking for is something with a high blade count, with a Hi ATB configuration which helps to eliminate tear out in materials such as plywood where the orientation of the grain changes per layer of ply.
Freud LU80R010
The Freud LU80R010 is a great 10″ saw blade for sheet materials. The 80 tooth blade with 2 degree tooth angle is perfect for cutting sheet materials such as plywood and MDF. It will give a fair finish in chipboard. The high tooth count with it's Hi-ATB tooth orientation is perfect for making clean cuts, minimizing the risk of chipping and tear out. It has a standard width kerf so should be fine most table saws. A blade like this will deal with melamine really well and the 2 degree hook angle is ideal, just make sure that the blade height is set perfectly in relation to the work piece. If using double sided melamine, it may be worth taping the underside of the cut with masking tape to avoid chipping
Freud LU97R010
The LU97R010 is designed specifically for double sided laminate and melamine. It's designed to give an excellent finish in both the top and bottom of double sided laminates and melamine with out the need for taping or using scoring blades. The negative hook angle means that you have to take it a bit slow as forcing it may cause the blade to lift the work piece, but this does help give a cleaner cut.
Forrest DH10807100
This is an excellent blade from Forrest designed specifically for cutting melamine and plywood perfectly. It is ideally suited for thin low pressure, two sided laminates, plywood's and fine cross cutting on all woods. This blade has a thin kerf of 0.1″ so you will need to make sure that your riving knife or splitter will accommodate this blade. The angle of the Hi-ATB teeth is 40 degrees which helps makes the almost perfect cuts by slicing rather than chipping the sheet material.
Choosing the best table saw blade
If you can only have one table saw blade what should it be. This one is very simple. It will either be a 40 tooth general purpose blade or a 50 tooth combination blade. The key number here is the tooth count. For rip cuts you usually need a blade with a lower tooth count. This will enable you rip boards very quickly and 24 teeth will leave a good enough edge on a rip for glueing.
Now to avoid tear out on your wood when cross cutting it's important to have a blade with a much higher tooth count. Now this can be anything up to 80 teeth. They are designed to cut across the wood fibres as opposed to along the grain and will generally require a slower feed rate
So by choosing a blade that sits somewhere in the middle means you can get great rips and crosscuts from a single blade meaning that you don't need to keep swapping the blade out.
A 50 tooth combination blade will have a combination of teeth in a sequence. some will be ideally suited to ripping and the others would be for crosscutting. The teeth on a 40 tooth general purpose blade are evenly spaced and do a great job of both ripping and crosscutting.
Now the 40 tooth general purpose has some advantages over the combination blades. Because of the fewer teeth that are capable of ripping faster and still do a great job crosscutting due to the geometry of the teeth. They also less likely to leave bottom side tearout.
The 50 teeth combination blades do also have their advantages. Firstly they can be cheaper and will give you squarer cuts in no through cuts and dadoes as the top of the kerf is flat.
Basic Blade Types
You will see a lot of acronyms flying about when you start to research table saw blades. but it's important to know that table saw blades fall into 4 main categories
Flat Top Grind (FTG)
Alternate Top Bevel (ATB)
Alternate Top Bevel / Raker (ATBR)
Triple Chip Grind (TCG)
FTG – Flat Top Grind
An FTG saw blades teeth, which are sometimes also referred to as "rakers" edges are square to the saw plate. These teeth act like a chisel when they come into contact with the wood. FTG teeth are great for fast cutting and by the way, they cut are more durable than ATB teeth. FTG blades are ideally suited to cutting along the grain so you tend to find them on rip blades. the drawback that an FTG blade has over other types is that it won't give you as clean a cut as other types of blade, but this may be less of an issue for you
If you find yourself ripping a lot of wood along the grain and want a good blade primarily designed for ripping then look at these best sellers. Used for it's intended purpose they will continue to give you great cuts for longer.
ATB – Alternate Top Bevel
An ATB blade has alternately angled teeth. The purpose of these is to shear the wood fibers as opposed to chopping them which you would get with an FTG blade. The steeper the bevel the greater the shearing action that is produced, which in turn leads to a cleaner cut. But the steeper the angle also means that the blade will dull quicker. Most 40 tooth ATB table saw blades are classed as "Multipurpose" meaning that they will make great rip and crosscuts, eliminating the need to keep changing the blade.
ATB/R – Alternate Top Bevel / Raker
The ATB/R blade is also known as a combination blade. They are typically 50 tooth blades arranged in sets of 5. they have 4 ATB teeth followed by 1 raker tooth. The thinking behind combination blades is the the raker makes the rough cut and the ATB teeth clean it up.
TCG  – Triple Chip Grind
TCG blades have two type of teeth and vary between a raker and a chamfered tooth. The chamffered tooth makes a rough cut and the raker cleans it up. TCG blades are great for very dense materials such as plastic laminate, Corian, Non ferrous metals like brass and aluminium. Cutting these sort of materials would blunt an ATB blade very quickly but by using a TCG blade you will greatly increase the amount of time between resharpening.
Blade Features
Blade Materials
when it comes to the blade material there are two aspects that you need to consider the material and manufacturer of the plate and material used to make the teeth. Now unfortunately all table saw blades are not created equally and a cheap poorly manufactured blade is not going to deliver the results that you would expect. Especially when you have spent a significant amount of money on a table saw don't scrimp on the blade. But time after time saw manufactureres will bundle poor blades with their saws in an effort to keep the overall price down. Good quality blades are made from laser cut steel and have teeth made from microscopic grains of C4 grade carbide usually less than 1 micron in size
Anti kickback shoulders
Anti kickback shoulders are a means of controlling the feed rate of the piece of timber across the blade. The teeth of a table saw blade are designed to remove a small piece of wood at a time. If the workpiece is forced into the blade twoo quickly, the blade can send the piece of wood back the other way (Kick Back) the shoulders manage to counter this by ensuring that only the correct amount of material can be removed from the workpiece per tooth cut. the shoulders will stop the timber from moving to far into the blade until it is ready to do so.
Anti vibration vents
A blade spinning a 400 rpm can make a lot of noise and create a lot of vibration. Laser cut slots on the blade help eliminate vibration, which in turn reduces wear and tear on your table saw and reduces the noise that is produced from a vibrating blade.
Table Saw Blade Hook/Rake
The table saw tooth rake is the angle of the tooth in relation to the center of the blade. A tooth that is angled forward would be described as positive rake and is often used on a blade that will cut more aggressively. A tooth angle that is absolutely vertical when it is at the top of the blade is described as zero rake angle. A blade that tilts backwards, typically between 0 to -6 degrees is described as negative hook
Kerf
Table saw blade kerf is the term given to the thickness of the teeth and translates to the width of the material removed when cutting. A standard or full kerf blade will have a blade kerf of .126″. Any blades that has a kerf narrower than .126″ are describled as thin kerf saw blades. Because these remove less material per pass than full kerf blades. They are a good option for smaller table saws that have lower powered motors. The trade off for this is that because they are thinner they may be more prone to vibration. But advances in technology and blade design have all but mitigated these problems now. Features like anti-vibration vents which are featured on a lot of after market blades these days easily compensate for the thinner blades.
Tooth Count
Tooth count is simply the amount of teeth on a blade. The fewer teeth the quicker and more aggressive the cut. The trade of for this is a rough finish on the cut that will need to be cleaned up on. This may be good enough for you if you are just making rip cuts (cuts along the length of the board) But will get a lot of tear out on cross cuts.
Blades with a higher tooth count will almost always give a cleaner cut, especially when it comes to cross cutting but the trade of for this is that feed rate will need to be slower as the smaller gullets of the teeth mean they can remove less material per cut.
Arbor
The arbor of a table saw is simply the diameter of the spindle that the table saw blade fits to. So the arbor of the blade is simply the diameter of the hole in the middle of the blade. most table saws have a standard size of 5/8″
Anti kickback shoulders
Anti kick back shoulders are a design feature of a table saw blade that help you limit the speed that you can push a work piece through a table saw. it sits just below the height of the tooth and just in front to stop too much material being removed at a time.
Blade Coatings
Many blade these days come with coatings that are designed to reduce friction and heat build up. This helps prolong the use of your table saw and helps make it easier to clean pitch of of your blade.